Product Dimensions: 63"H x 47"W x 74"D
(measurement is for bench only does not include a 7' Bar)
Big Bear Olympic Bench
Description:
Achieve your ultimate fitness goals with the industry's premier multi-purpose
Olympic Bench! Yukon's Big Bear is your ticket to sculpting your upper body
with comfort and stability. Easily adjusts from flat, incline or decline bench
positions in seconds. This rugged bench is built with heavy gauge 2"x 2"
steel tubing, has a rugged back pad which is reinforced by a pair of 1" x 2"
steel tubes. The machine is powder coated in a high gloss, chip resistant
enamel finish. The big bear bench has been specifically designed to put you
in the position for the perfect shoulder press.
*Please Note: Olympic adapters and Weights sold separately
*Upgrade to include the Preacher Curl Attachment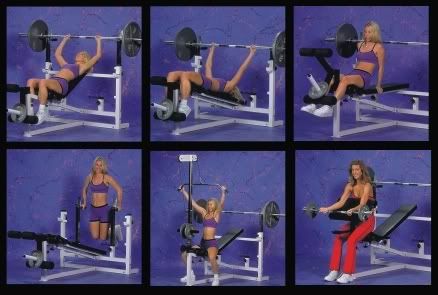 Product Features:
Flat-Incline-Decline Bench

12 Gauge 2" x 2" Heavy Steel Tubing

Rugged Back Pad Reinforced by a Pair of 1" x 2" Steel Tubes

Built-in Chrome Dip Station

Chrome Uprights- Welded Tightening Pins for Quick Adjustments

Leg-Curl / Leg-Extension with Self-Oiling Brushings

Fully Adjustable

Can accept Olympic Adapters

Capacity – 600 lbs. (includes user)
Availability: Usually ships within 24 hours.